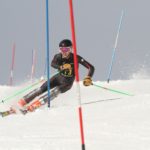 The Alpine Racing Program is for ages 7 through adult. An emphasis on extensive free skiing along with technical drills and gate training develops physical and mental strength, balance, and agility. Training is either one or two days a week, for the duration of the season, and includes a week long Christmas camp. Dry land training is available in Billings starting in October . All participants must have a current USSA license in order to race.
Devo – developmental program (Youth Ski League, YSL) for ages 7-12 Coaches build confidence using the mountain as a playground and guide. These athletes participate in home races, and may choose to travel to away races. Athletes may choose to train either one ($755), or two ($990) days a week.
JR – Junior Program for ages 13-18 This program provides a more intensive focus on the technical and tactical components of the sport. Athletes compete in home and away races. Participation in competition is not mandatory, but strongly encouraged. Athletes may choose to train one ($755), two ($990), or multiple ($1299) days a week.
New this season: in addition to a regular program, athletes can choose to purchase a punch card that will give them 5 extra training sessions (either weekend or mid week) for $199.
Registration can be completed with a click here
D Team – "Dedication counts team" new this year, this team consists of athletes chosen by the coaching staff to recognize their dedication to Silver Run. It is for ages U14 and older. The athletes chosen will receive a coat to signify the accomplishment. Athletes will train with their regular groups. Here are the criteria:
Regularly attend full days of training – including some of the mid week opportunities.
Commit to dry land conditioning or are involved with another organized sport/activity.
Complete a USSA physical assessment.
Maintain a 3 point grade point average
Demonstrate Silver Run team values: integrity, Community, responsibility, perseverance.
Complete SRST goal sheet and maintain an athlete training log.
Attend all Northern Division qualifying races.
The criteria listed are benchmarks that we, the coaching staff, feel are strong indicators of overall positive character development in addition to demonstrating a special commitment to alpine ski racing. We stress that this criteria relies solely on dedication and commitment and not results in training, racing, or otherwise – however, we strongly believe that with hard work comes development, experience, performance, and results will transpire.
D team athletes for 2018 are Sahale Allen, Robby Brown, McKinley Ross, and Ava Russo! Congrats!
Athlete of the month – each month 2 athletes are chosen who represent SRSF values. This month they are:
Bea Bentler (10)
Will Strike (10)
Scholarships are available:
We welcome and encourage athletes who find tuition to be a burden to apply for a scholarship. Find the application here:
Scholarship application (88)