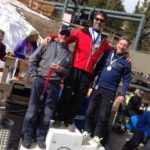 The upcoming season will be the seventh of our very popular Masters race program under the direction of our world class ski coach Lisa Densmore Ballard (http://silverrunski.com/coaching-staff/). This program is for ages 18 and older. Note: Racers age 18 and older may compete in either USSA U19 races or Masters races. This program welcomes adults who would like to hone their skills and keep their competitive edge. Masters can may select from three options: 1 day per week ($755), 2 days per week ($990), 3+ days a week ($1299); or a five-session punch card ($199). Training sessions meet Wednesday and Friday afternoons and all day on Saturdays and Sundays throughout the entire season for gate training and directed free skiing with a coach. Masters in the 1-day and multi-day seasonal programs are welcome to participate in dryland training and Christmas Camp at no additional charge.
Athlete of the month: each month an athlete is chosen who represents SRSF values. This month that athlete is:
Brad Funston (131)
Silver Run is pleased to announce our 4th annual Dust-the-Rust-Off masters camp, December 6-10, 2017. This popular camp will be packed full of skill honing, with lots of training in and out of the gates on Red Lodge Mountain's legendary early season snow. For more on the camp, click here:
Masters Dust the Rust flier (73)
To REGISTER for the 2017 Dust the Rust Masters camp click here:
Sorry, the Dust the Rust camp is full! Please email Vanessa at silverrunski@gmail.com to be put on a waiting list! Thanks!
silverrunski@gmail.com
[/fusion_builder_column][/fusion_builder_row][/fusion_builder_container]